About Susan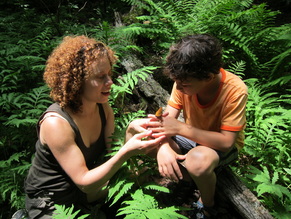 Monarch Butterfly in the forest of Vermont
I live close to Prospect Park, Brooklyn, and enjoy finding special peaceful places where I can return and follow the seasonal changes. Connecting children with nature is my passion. I grew up in urban Brookline, MA, on the edge of Boston. I lived in an apartment building and my connection to place was from playing inside a hollow hedge against the brick facade, and from climbing the tree in the parking lot. These places gave me a sense of joy, of peace, of my own special place. As an adult it is hard to imagine that those places are more than "just a bush," but I strongly remember being behind that bush and it was a magical realm, almost within a shimmering curtain of ordinary reality. Quiet time up in the tree with my book, feeling the tree sway in the wind, was enough to instill a lifelong love of the natural world.

Most nature programs currently available for children are quite structured, and parents are accustomed to tangible results and proof that the child "learned" something. This causes great pressure for children, and many don't even know how to play any more without adult coaching. It's very important to give children an unstructured magical experience where they can get into the zone of pure play, and interact with nature. The point is not to 'teach' the kids with lectures, but rather allow them to teach themselves by playing in the natural environment without interruption. If a teachable moment of plant identification (eg.) comes up naturally, we do discuss the scientific facts, but parents should understand that academics are not the primary objective of play time.

As an AMS-certified Montessori teacher, I am careful to guide a child, model good behavior, and step back when the child walks his own path. In 2003, I wrote my masters thesis on how playing in nature influences the total development of the child, encompassing physical, emotional, and spiritual dimensions. Thus began my work towards enabling children to connect with nature. Now that I live in bustling New York City, I am aware of how easy it is to not find time to go for a walk in the park. Busy parents certainly are protective of their children and don't want them playing outside unsupervised. I believe this is a problem that is grossly worsened by the "technology babysitters" that do not foster creativity or a sense of place.

Playgrounds are mostly devised for exercising the child's gross motor skills. During my research I've become sharply aware of the lack of interaction children have with nature. Even trees within a playground tend to have little fences around them. My dream is to work with landscape architects, botanists, and children to design more natural elements that can be sustainably incorporated into playgrounds.


---
More About Susan:


Lily pond in Brooklyn Botanic Garden

_
My undergraduate studies in pure mathematics and psychology led to a final thesis project in which I studied the patterns in plant growth, called phyllotaxis, in which spirals are created by the Golden Ratio, or phi. This fascination led to deep exploration into chaos theory and quantum mechanics. I became interested in our perception of beauty versus what patterns naturally occur.

In 2003, I completed a Masters in Education with Early Childhood Focus, linked to my AMS Montessori teacher training at the Northeast Montessori Institute. After two years teaching ages 3-6 in the classroom, I moved to New York and began a new career in event management.

I believe strongly in the power of discovery from within. Watching a child's face break into spontaneous joy while freely playing in nature is when I know I'm doing the job I am meant to do: bringing light into this world, and fostering personal connections with Mother Earth that will last a lifetime.

---