Prospect Park, Brooklyn Unstructured Nature Play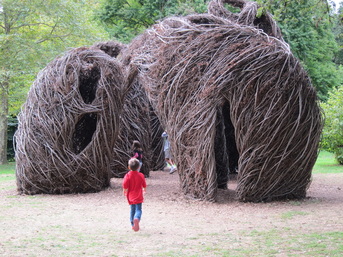 Patrick Dougherty sculpture, Brooklyn Botanic Gardens
THE NEXT NATURE PLAYDATE IS:
The Second Sunday of every month

Sign up by contacting susan@findasenseofplace.com

Location: Meet at Vanderbilt Playground (Prospect Park Southwest) We will go to the Peninsula on an adventure! Parents are welcome to come along.
Ages: 4 through 10 are welcome.
Sign Up: Use the "contact" form to send an email.
Weather and dress: Please dress appropriate for weather and getting dirty or wet. Misting and light rain is a magical time to explore the forests of the park. In case of downpour or temperatures/windchill below freezing, we cancel.

Suggested Donation Exchange: $25 per child. Siblings $40.

Also, we're open for conversation - let's just get together for some coffee and talk about how to bring more nature awareness to parents, schools, playground design, and further the movement!

More details about our program:

Children need unstructured time to play in Nature. City parents struggle with finding time to take their children on vacations to the woods, not realizing that the natural elements already exist in our cities. Even a single bush in a city park is enough to stimulate imagination, creativity, and joy. When children truly connect with nature, they gain a sense of peace, self-esteem, and a lasting feeling of contentment and joy that carries through to adulthood.

We take small groups of children to magical places in Prospect Park, Brooklyn, and encourage pure play, without structured rules or expectations. The joy on their faces as they realize they can just "play" without adults imposing structure is inspirational. Using Dr. Maria Montessori's method of directing the child, we start by introducing ground rules for safety of the plants and other children, and then offer direction if the children need it. We observe their play, taking part if it feels right, and watch for their safety.

Sometimes it's hard for children to relax because they are so used to adults dictating their free time. We encourage them to start out feeling the soil, the bark, and building little "Fairy houses" for the fairies and creatures who live in the park. The only rule is that they must use natural elements from the environment, and cannot pick any live flowers or branches. As they create a special home in miniature, they sink into a peaceful, meditative, contented mindset. After 10-15 minutes they tend to relax and move into pure play. We aim to give at least 90 minutes of uninterrupted play time.
---