Reading List for Inspiration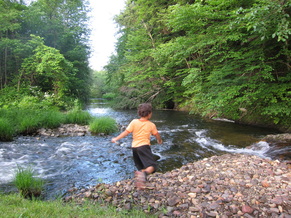 T
he future will belong to the nature-smart—those individuals, families, businesses, and political leaders who develop a deeper understanding of the transformative power of the natural world and who balance the virtual with the real. The more high-tech we become, the more nature we need. (Richard Louv
)
Matter in the wrong place is dirt.
People got dirty through too much civilization.
Whenever we touch nature, we get clean.
(Carl G. Jung, 1875 - 1961)
The child who has felt a strong love for his surroundings and for all living creatures, who has discovered joy and enthusiasm in work, gives us reason to hope that humanity can develop in a new direction.
(Maria Montessori
, 1870 - 1952)
​
Children & Nature Network (C&NN)
Based in Minnesota but quickly becoming a global resource,
Children & Nature Network
is fabulous.
Mission: The Children & Nature Network is leading the movement to connect all children, their families and communities to nature through innovative ideas, evidence-based resources and tools, broad-based collaboration and support of grassroots leadership.
For Families:
Download the Nature Clubs for Families Toolkit PDF
For Teachers:
Download the Tools for Natural Teachers PDF
​
Books
Children's Special Places: Exploring the Role of Forts, Dens and Bush Houses in Middle Childhood
(1993), by David Sobel.
In the First Country of Places: Nature, Poetry, and Childhood Memory
(1994), by Louise Chawla
This book by one of the foremost researchers on children and nature explores the relationship between creativity, memory and special childhood places in nature.
The Nature Principle, Last Child in the Woods by
Richard Louv
The Earth Has a Soul: C.G. Jung on Nature, Technology and Modern Life
; edited by Meredith Sabini
Wild Play
,
Place-Based Education
,
Childhood and Nature,
all by David Sobel, Project Director - Antioch New England Institute. Sobel is an education writer who has helped in developing the philosophy of place-based education.
Nurturing the Spirit: In Non-Sectarian Classrooms
by Aline Wolf. For Montessori teachers, parents, and everyone else.
Podcasts & Meditations
Future Primitive
Joanna Harcourt-Smith creates a thoughtful
community of voices who speak about our connection and partnership with the living Earth.
A Nature meditation
by Mark Coleman & Sara Overton

Links and Other Great Programs
Children & Nature Connect
- A wonderful resource for programs, events, and resources.
Fairy Houses
- Books connecting children with nature - with a pinch of fairy dust!
Learning Through Landscapes
- Based in the UK
Brooklyn Forest School
- NYC forest school - Up to age Four
Tinkergarten
- At Tinkergarten we develop, test and share outdoor activities for your kids that are dead simple, wildly fun and designed for learning.
Check out our Facebook page for updates and linked articles...
http://www.journalofplay.org/issues/242/243-battling-nature-deficit-nature-play
---