A sense of place begins with childhood play.
Children need unstructured time to play in nature. By following the wisdom within our own bodies and hearts, we learn our most meaningful lessons. As parents and teachers, we must trust the inner guide of each child to play with his or her environment as she feels inspired. We can allow her inner wisdom to shine so that she may develop self esteem, form opinions, have unique life experiences, and deepen moral values. Dr. Maria Montessori fundamentally believed that in order to create a better world, we must nurture the spirit of the child.

Children need to foster relationships with places; specifically, natural places with the complexity that only Mother Nature can design. These early relationships create memories of a sense of 'home' or 'place' that adults may unconsciously draw upon for foundation and a sense of self and well-being.

Give your child a vacation from the pressures of modern life! Let us give them a breath of freedom and fresh air.

THE NEXT BROOKLYN NATURE PLAYDATE IS:
The Second Sunday of every month

Sign up by contacting susan@findasenseofplace.com

What is a sense of place?
A "
sense of place
" is a term that is often discussed in child and environmental psychology and refers to a special connection (be it physical, emotional, or spiritual) to a geographic area (See
wikipedia
link). The child's sense of place is a foundation that has many subtle repercussions into the adult life. There is strong evidence that
childhood play in natural settings
develops a healthy sense of place. Children need to find the quiet solitude that fosters true creativity and lasting connection to the inner self. Adults looking back on childhood tend to have strong fond memories of playing in natural settings. As adults, we can connect with memories of a favorite tree we climbed in as a child, or of a stone wall in a wooded backyard where we built fortresses for the animals and magical creatures that we imagined came out when we went away.
However, in our modern technology-filled times, children are often given a phone or iPad or other electronic toy instead of allowed out the back door to roam freely. This screen-habit has lasting negative implications for many reasons. Our interactions with actual physical places are becoming impersonal. It is difficult to bond with "placeless" places such as suburban shopping malls or fast food stores. They are devoid of personal value and do not encourage the imagination or a sense of "home." It is not hard to see the connection between a
happy child
frolicking in nature, and a depressed and creatively-deadened child who is exposed to nothing but adult-built structures, strict rules of games, and screen technology. Even "interactive technology" is limited by the designers code and imagination and it cannot replace the sense of quiet belonging, and creative joy, that comes when children play in nature.
Here in New York City, residents are well aware of the dearth of free time in nature. We offer programs for loosely structured
creative play
, in which children are encouraged to get their hands dirty, build mini-fortresses for animals, and see the sticks and leaves as structures from which they can build magical kingdoms for the imagination and soul.
We live in New York City, but we have plenty of nature right here!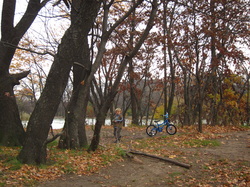 Children need to connect with nature through play, and New York City has many wonderful wooded areas that are absolutely inspirational for children (and adults too of course). We provide a safe and fun experience that encourages creative play. Small groups ages 4-10 allow for joyful cooperation and meditation on the mysteries that nature provides.

Thank you!

Susan Dorfman
Founder, A Sense of Place

---